Title
: My Darling Clementine
Rating
: PG13 to be safe
Characters
: Sawyer, Clementine, Walt
Word counting
: 2530
Disclaimer
: Lost is
not
mine, goddamnit. I don't do time travel.
Spoilers
: Up to the S4 finale.
Summary
:
"Well, I know your dad because I was in the same plane crash."
A/N:
won second place at

lostfichallenge
#78, the next generation, and

10_shakespeare
, "Your 'if' is the only peace-maker; much virtue in 'if'!". It's, uhm, I don't know where the hell it came from. I'm
not
making use of the song of the title, though.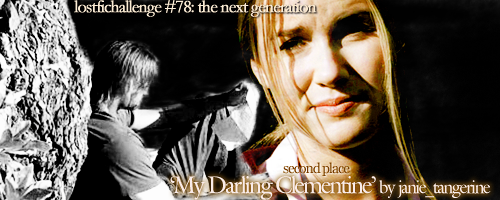 ( He thinks, 'What if I wrote that letter Cassidy wanted me to write.' )
So I've been slacking off with writing lately, but maybe this will get me back into the good old routine. Especially since I need to finish two things and post one which is done and lacks something I can't figure out.
Music:

rossini on rotation

Mood:

blah